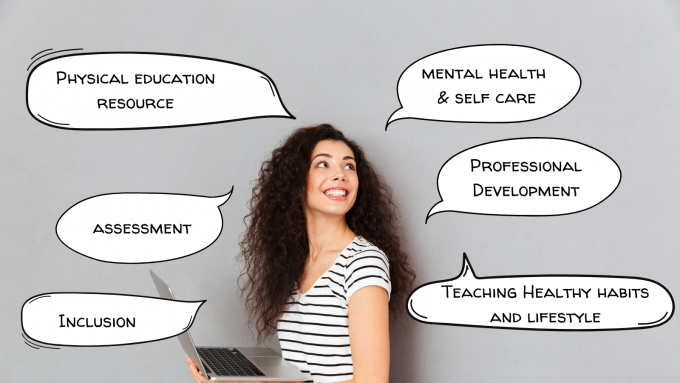 After what was an unprecedented school year last year, we hope you have had a relaxing, re-energizing, and refreshing summer, as September and back to school is once again upon us.
As you prepare for the upcoming school year, here are some programs and resources that will provide you with activity ideas, teaching strategies, and supports, for both in-person and/or remote learning.
250+ COVID-friendly, and open access PHE activities to provide quality PHE programming
Resource name: PHE Learning Centre
Resource Type: A wide variety of downloadable activity ideas and more
Grade level: K-3, 4-6, and 7-12
Price: Free
The PHE Learning Centre provides access to practical and fun physical and health education activities, return to school supports, self-care strategies, and professional development opportunities for you as you head back to school – continuing to provide quality physical and health education programming within the current COVID-19 protocols. 
Activities are organized by:
THEMES – physical education, healthy eating, emotional well-being, and healthy bodies;
GRADE RANGES – K-3, 4-6, and 7-12;
LEARNING ENVIRONMENTS – at-home, in-school, or applicable for both learning environments.
Helping your students be at their best with At My Best
Resource name: At My Best
Resource Type: PHE Canada program
Grade level: K-3, 4-6
Price: Free
The At My Best program is a FREE, comprehensive, curriculum-linked program designed to support students' optimal development by inspiring and motivating them to make healthier choices and develop lifelong healthy habits. The program supports the learning experiences of students in Kindergarten to Grade 6 with lesson plans, activity ideas, student and teacher supports (including activity cards), and fun and engaging challenges and events throughout the school year.  
NEW! K-3 and 4-5-6 Curriculum Links
With recently updated At My Best lesson plans, comes new curriculum connections for each provincial and territorial physical and health education curricula. Check them out when you sign in or register! 
Find out more and sign up for FREE
Developing fundamental movement skills with your students
Resource name: Fundamental Movement Skills series
Resource Type: PHE Canada print resource
Grade level: All grade levels
Price: Ranging from CA$23.95 to CA$57.95, purchased through canada.humankinetics.com
The Fundamental Movement Skills (FMS) Series supports teachers and recreational leaders in teaching fundamental movement skills in an effective, fun, and interactive manner.
 
Providing instructional tips, movement descriptions, assessment checklists, and activities to utilize the motor skills under focus, the FMS Series provides a developmentally appropriate teaching aid to support the motor skill development of your students.
Check out the entire series and find the resources right for you and your students. 
Learn more about the FMS Series
Start the school year off with Move, Think, Learn!  
Resource name: Move Think Learn
Resource Type: PHE Canada resource
Grade level: All grade levels
Price: Free
This FREE resource series uses a games approach to work participants through tactical gameplay problems, think through options and skills, and learn how to apply this learning to broader gameplay situations. With 16 different resources to choose from, including special editions with Jr. NBA and the CFL, you will find a variety of target games, net & wall games, striking & fielding games, and territory games to modify for public health and safety guidelines. 
Planning your PE program? Sign up for Passport for Life for free!
Resource name: Passport for Life
Resource Type: PHE Canada assessment tool
Grade level: K-1, 2-3, 4-6, 7-9, 10-12
Price: Free
Students may move, think, feel, and act differently when they return to school.  Let Passport for Life support you in planning your physical education program for the year!
 
Passport for Life is a FREE assessment tool designed to provide students with an understanding of their physical literacy journey. This online resource allows you to customize your programming to best meet the needs of the class and individual students.
Register for a Passport for Life account today!
Supporting student and teacher mental health
Resource name: Teach Resiliency
Resource Type: PHE Canada Mental Health Resource Online Library 
Grade level: All grade levels
Price: Free
Student and teacher mental health must be an essential component of return to school programming. TeachResiliency.ca is a public online portal offering teachers simple-to-use tools and strategies to assess resilience needs. This free online library provides access to resources to promote and enhance both teacher and student mental well-being. Specific resources for COVID-19 include :
ReBOOT your intramural programming
Resource name: ReBOOT Intramural
Resource Type: PHE Canada resource
Grade level: 4-12
Price: Free
ReBOOT Intramurals is designed to support and engage young people with lower rates of sport and physical activity participation compared to their peers. The program utilizes a 'for us, by us' model, with students coming together to co-design, implement, and evaluate an intramural program that suits the unique needs and interests of students within their school setting. Check out the ReBOOT Intramurals Toolkit for a step-by-step user-centred design approach that includes additional supports to implement the program. 
Empowering the PHE community
Resource name: PHE Canada Training and Certification
Resource Type: E-learning certification courses
Grade level: All grade levels
Price: Ranging from CA$31.95 to CA$51.95, purchased through canada.humankinetics.com
Empowered teachers empower the PHE community and their school community. PHE Canada offers professional development resources to enhance your knowledge and skills in delivering quality physical and health education and fostering healthy school communities. 
Learn more about the evidence, emerging trends, and the wise and promising practices that support us all in being attentive and responsive to the ever-changing needs of society in fostering healthy, active children and youth.
E-learning Certification Courses