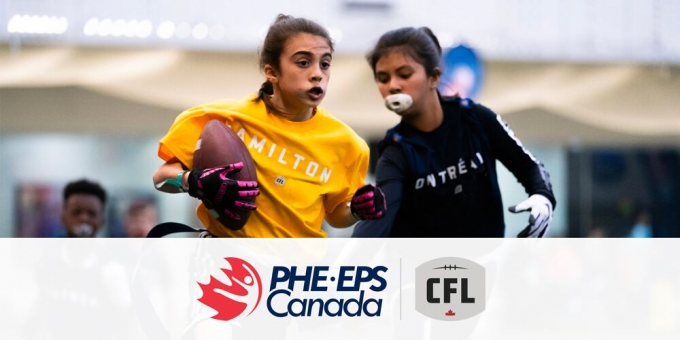 PHE Canada and the Canadian Football League (CFL) are excited to announce a new five-year partnership which will help introduce the game to thousands of schools and millions of students from coast-to-coast-to-coast.

The partnership will enhance the Move Think Learn: Football in Focus teaching resource to incorporate new skill practice games and instructional methodology to assist teachers in incorporating football into their schools' physical education programming. The first edition of the guide will be available this fall for Grades 4-6, while subsequent editions will focus on Grades 7-9 (Fall 2020) and Kindergarten to Grade 3 (Fall 2021).

"Sports like football have the incredible ability to teach young people some of life's most important lessons – leadership, teamwork, responsibility and so much more," said Melanie Davis, Executive Director and CEO of PHE Canada. "By working together and developing this resource, we will empower educators with the knowledge to teach kids how to run, throw, catch and kick their way towards a more healthy, fun and active lifestyle."

The collaboration supports the CFL's ongoing #TryFootball initiative which aims to encourage youth to discover the game.

"We couldn't be more pleased to work closely with PHE Canada to share our great game with young people throughout the country," said CFL Commissioner, Randy Ambrosie. "Whether it's with boys, girls, new Canadians, football fans or those new to the game, the schoolyard is the perfect place to bring kids together to learn, play and have fun."

Educators are invited to learn more about PHE Canada and Move Think Learn at www.phecanada.ca. For additional information regarding the CFL's #TryFootballcampaign, please visit TryFootball.ca.