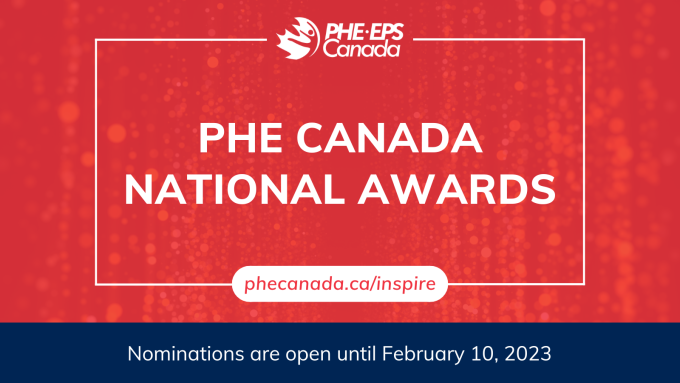 PHE Canada's new National Awards Program is launched, with three award categories to recognize and amplify the incredible work that champions in our PHE Community have accomplished over the past year. 

The three open award categories are: 
R. Tait McKenzie Lifetime Achievement Award
Number of Awards: 2 recipients per year
Who may be nominated: Recognized leader with at least 20 years experience as a teacher, coach, supervisor or administrator, who can demonstrate a lifelong commitment to the advancement of quality PHE in Canada.
National Award for Teaching Excellence in PHE
Number of Awards: Up to 15 recipients per year
Who may be nominated: Outstanding Canadian teachers who engage students in a high quality PHE program, teach full time in K-12/CEGEP, and have at least 50% teaching responsibilities in Physical and/or Health Education. 
PHE Canada Impact Award
Number of Awards: Up to 10 recipients per year
Who may be nominated: An individual, group, or organization that has demonstrated results showing transformative impact on PHE and/or Healthy School Communities through the development of innovative resources, practices, pedagogy, or research.
The new PHE Canada National Awards Program has been re-designed to expand its reach and scope to all outstanding educators across Canada; strengthen the priorities and selection criteria for each award; simplify the application process; and increase the equity, diversity, and inclusion of the awards.

PHE Canada National Award recipients will receive an award plaque; complimentary registration to the upcoming 2023 PHE National Conference; and recognition on the PHE Canada website, social media, and annual report. 
Nominations are open until Friday, February 10, 2023.