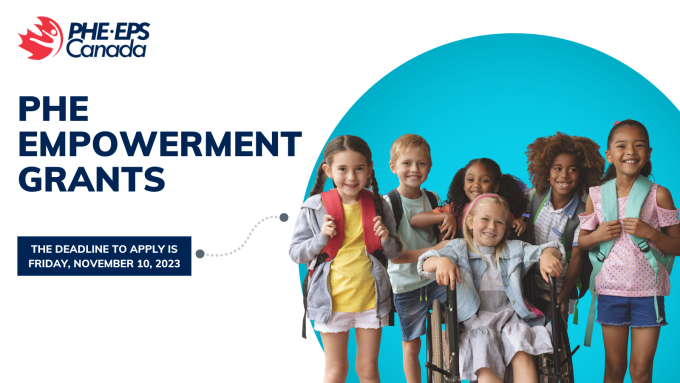 PHE Canada is excited to announce the return of the 2023-2024 PHE Empowerment Grants Program. The PHE Empowerment Grants provide financial support to schools and PHE Champions across the country to advance and increase access to quality physical and health education programming and healthy learning environments for all children and youth in Canada.
The 2023-2024 grants features two (2) funding streams: 
Stream 1: Healthy, Active School Programming
Provides financial support, up to $2,500, to schools for projects that initiate, enhance, and/or increase access to meaningful physical and health education programming and/or healthy school initiatives.
Stream 2: Professional Development 
Grants up to $500 available to in-service physical and health education teachers and healthy school champions looking to enhance their knowledge, skills, and capacity through professional development opportunities.
Grant Timeline
The PHE Empowerment Grants Program is now accepting applications. Deadline to submit an application is Friday November 10, 2023. 
Learn more about these and other funding opportunities at https://phecanada.ca/connecting/funding