Research shows that many gender and sexually diverse students have negative experiences engaging in physical and health education, which impacts their lifelong health and well-being. 
PHE Canada worked with Dr. Travers at Simon Fraser University, Sonali (Alyy) Patel, a 2SLGBTQ+ intersectionality researcher, and 2SLGBTQ+ youth and allies to research, review, and recommend strategies to embed inclusive programming practices and better support gender and sexually diverse students in your classroom.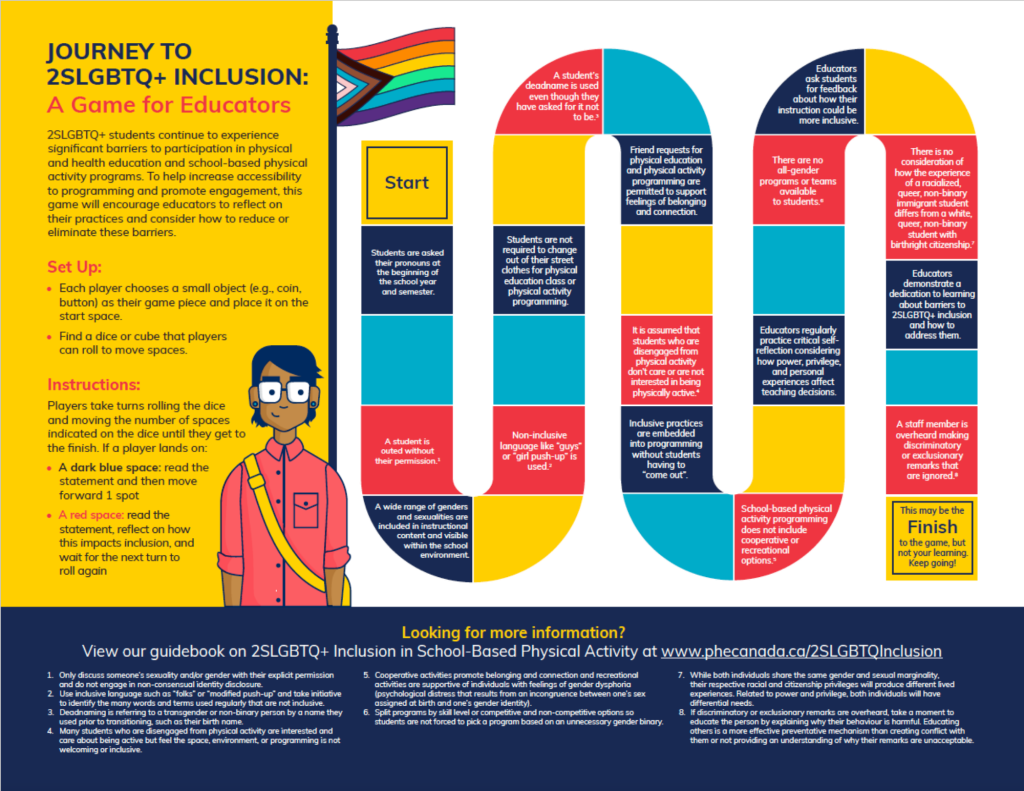 NEW! Support your students and enhance your knowledge by playing "Journey to 2SLGBTQ+ Inclusion"!
The guidebook, poster, and literature review below outline the barriers for 2SLGBTQ+ student participation in school-based physical activity and provide recommendations for educators to approach and address these challenges. 
Educators and school administrators can utilize these resources to spark positive change, combat discrimination, and educate staff and students about the importance of fostering positive, safe, inclusive spaces for physical activity.
Download the guidebook, poster, and literature review for ideas to make your classroom, school, or team a more inclusive environment. Contact us with questions or ideas! 
Watch a video from PHE Canada's SPIRIT pilot project supporting the inclusion of 2SLGBTQ+ students.
Literature Review     Poster     Guidebook (new!)
---