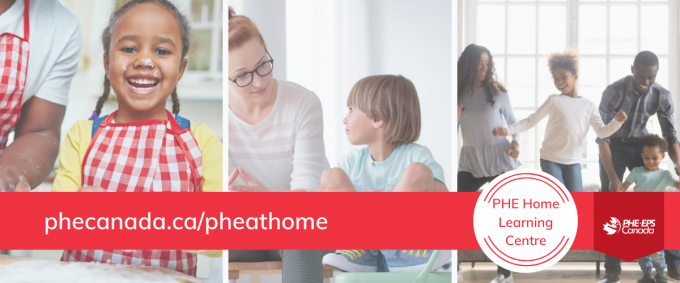 Physical and health education is an integral component of a child's education, development, and school experience. With COVID-19 changing the educational landscape, PHE Canada believes it is essential that all children continue to receive quality physical and health education (PHE) from qualified educators in order to develop the knowledge, skills, and attitudes to lead physically active and healthy lifestyles. These lifelong skills are more important now than ever before as we face new challenges. 
PHE Home Learning Centre
The PHE Home Learning Centre has been developed to support learners during this unprecedented time – in continuing to offer quality physical and health education learning experiences under the new paradigm of online educational delivery within a home setting.
What you will find:
Physical and Health Education Activities
Educational activities are organized into three themes - physical education, healthy eating, and emotional well-being – across three grade ranges – K-3, 4-6, and 7-12. Let's go »
Self-Care 
As if teaching wasn't already challenging enough, right?! Let's make sure you are also taking care of you during these uncertain times and beyond. Find tips and strategies to support teacher mental health. Let's go »
Professional Development 
For some, this time of social distancing has presented an opportunity to self-reflect and grow. Find opportunities to grow and keep your mind active and engaged. Let's go »
Staff Picks
Find a vast array of physical and healthy living related activities students can do at home. Let's go »
The PHE Home Learning Centre will continue to evolve as new activities, services, and supports continue to be added. Visit www.phecanada.ca/pheathome for the latest developments and resources.