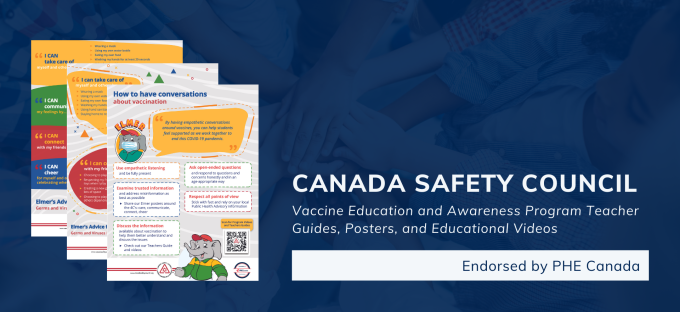 PHE Canada is proud to announce the endorsement of the Canada Safety Council's Vaccine Education and Awareness Program Teacher Guides, Posters, and Educational Videos.   
 
The Canada Safety Council (CSC) is a national charitable organization raising public safety awareness and providing educational programs. As part of its Elmer the Safety Elephant Program, CSC, with support from the Public Health Agency of Canada, has developed a free Vaccine Education and Awareness Program. The program includes pre-packaged lessons and a series of educational videos for students in grades 1-8. The program also supports both teachers and schools through teacher guidebooks and posters, which can be easily printed and put up in class or around the school. 
 
Featuring vaccine education supports for the primary (grades 1-3), junior (grades 4-6), and intermediate (grades 7-8) levels, the program's Teacher Guides, Posters, and Presentation Videos have been reviewed by public health officials and educational experts and now endorsed by PHE Canada as accurate and educationally appropriate resources for the student audience.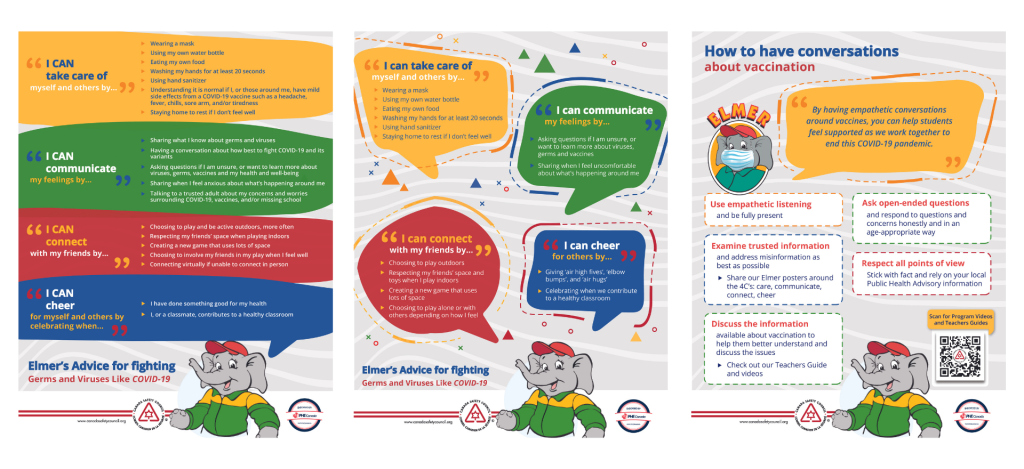 To find out more or to access these resources, visit https://canadasafetycouncil.org/elmer-vaccine-awareness
Congratulations to the Canada Safety Council on the development of this timely educational program that will inform and support school communities across the country.  
These resources are also supported by The Canadian Association of School System Administrators (CASSA) and The Canadian School Boards Association (CSBA). 
---
PHE Canada Review and Endorsement Program 
The PHE Canada Review and Endorsement Program is a comprehensive evaluation and certification process that recognizes programs as quality resources to those in the education sector. If you would like to learn more about PHE Canada's Review and Endorsement Program, please visit our website at www.phecanada.ca/programs/endorsed-programs.