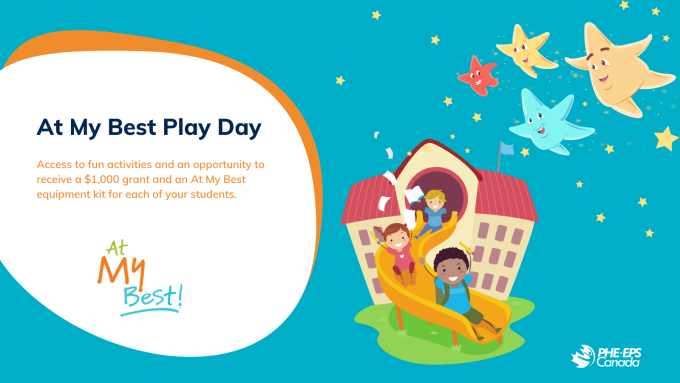 At My Best Play Day registration is now open with access to fun activities and an opportunity to receive a $1,000 grant and an At My Best equipment kit for each of your students.
At My Best Play Days provide an opportunity to celebrate schools and students being at their best and promote healthy habits through a day of fun and games. Offering a variety of safe activity suggestions, for at-home and at-school, the At My Best Play Day Toolkit supports schools in planning their celebration with these free downloadable resources.
COVID-19 Modification Considerations
The At My Best Play Day Toolkit has been updated to provide specific COVID-19 modification considerations to support planning and to follow health and safety protocols. 
Register by April 15, 2022 for an opportunity to be selected to receive: 
A $1,000 At My Best grant to support school initiatives reflective of the At My Best themes – physical activity, healthy eating, emotional well-being.
At My Best Play Day Equipment Kits for kindergarten - grade 6 students at your school, courtesy of Supporting Partner, Saputo. Each student will receive a bag with a skipping rope, two bean bags, ball, and activity card to keep them active and promote healthy choices for the remainder of the school year and over the summer.
---
Not registered for the At My Best program?
At My Best is a free, curriculum-linked resource designed to support children's optimal development by inspiring and motivating them to make healthier choices and develop lifelong healthy habits. Sign up for free now!
---