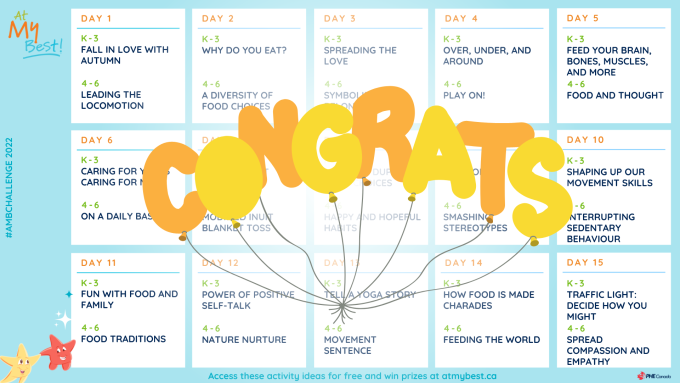 The 2022 #AMBChallenge took place between November 21st to December 16th 2022, featuring fifteen (15) At My Best challenges to complete within 20 school days to support students in learning about their health and well-being. With activities for K-3 and 4-6 grade levels, the challenges are categorized into the three themes of the At My Best program: healthy eating, emotional well-being, and physical activity. 
This year, the AMB Challenge provided 6 schools with a $1000 cash prize each.
Congratulations to our winners!
Wismer Public School (ON)
École Notre-Dame de L'Assomption (QC)
Forest Glen School (NB)
École Arc-en-ciel (QC)
Marham Gateway Public School (ON)
Vellore Woods Public School (ON)
Thank you so much to all who participated, and we look forward to having you participate in the next #AMBChallenge!