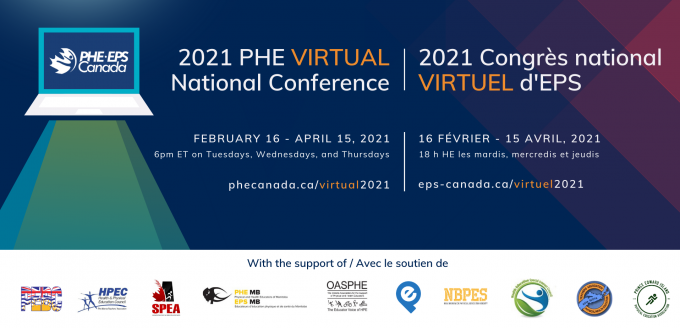 With the holiday break almost upon us, PHE Canada has something for you to look ahead to in 2021 - the 2021 PHE National Conference is coming straight to you by going virtual. We've partnered with the PHE Teacher Associations from across our great country to make sure you get the best and most relevant PD experience all in one place.
The result, an uplifting PHE Virtual National Conference to help you plan, sustain, and continuously improve your physical and health education teaching, both now during COVID-19 and going forward. With 6 sessions to choose from, there is something for everyone!
6 Priority Topics:
Outdoor Learning & Outdoor Education
Health Education & Wellbeing
Assessment in PHE
Inclusion & Equity in PHE
Physical Literacy and Wellbeing
Indigenous Ways of Learning in PHE
Take as many sessions as you want or save with the ALL ACCESS VIRTUAL PASS! Get access to practical tools for your PHE toolbox, dive deep into innovative approaches with Canadian PHE experts, and hear from some of Canada's PHE Champions on what's working in their classrooms.
2021 Physical and Health Education Virtual National Conference will be held in two blocks. The event date is from February 16 to April 15, 2021.