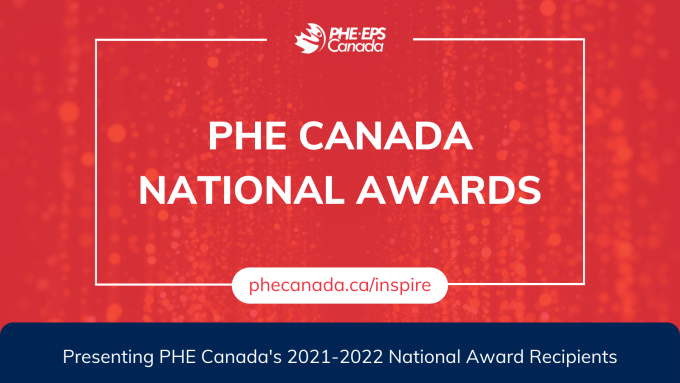 PHE Canada is pleased to announce the 2021-2022 National Award recipients and recognize their commitment to physical and health education. We congratulate all of the award recipients for their quality work, passion for the field, as well as their exemplary conduct and significant contributions to the PHE Community.
The award recipients are: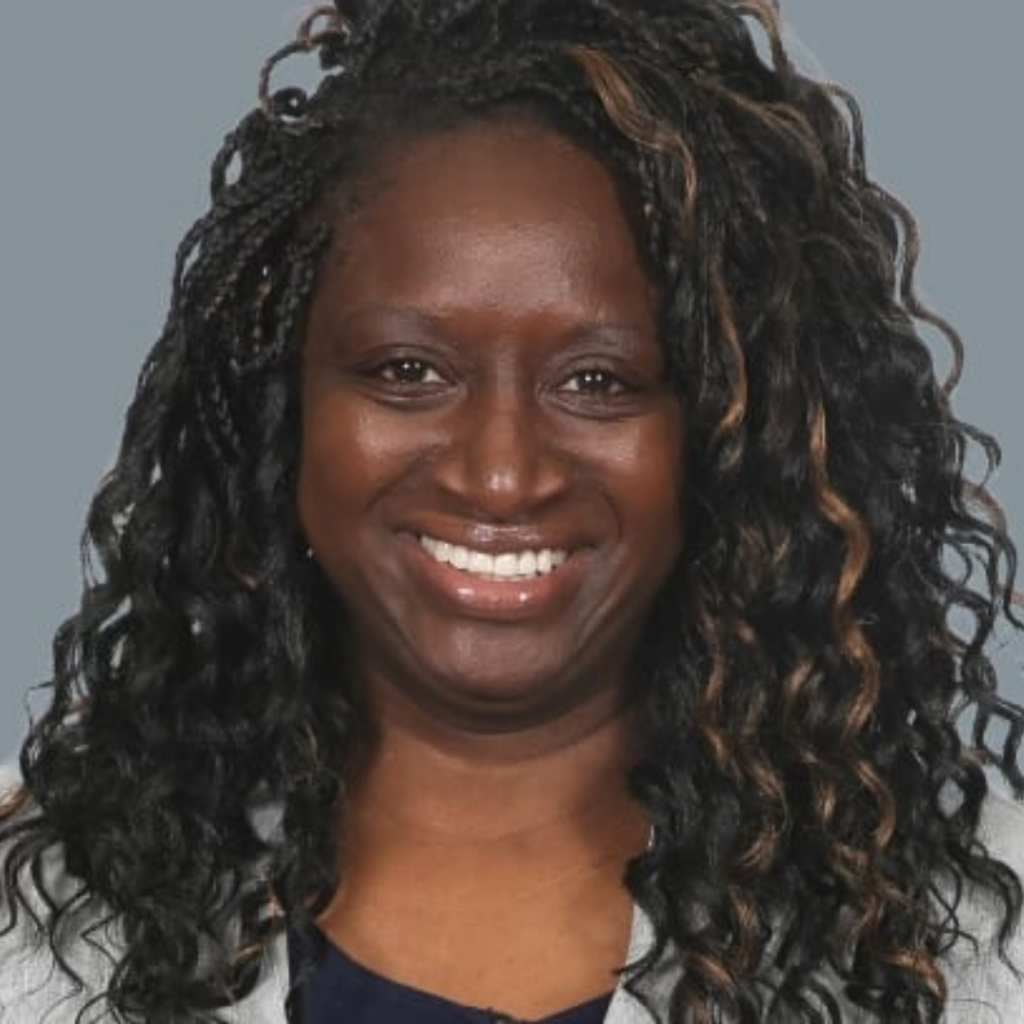 Dr. Leisha Strachan, Manitoba 
2021-2022 R. Tait McKenzie Award Recipient
Dr. Leisha Strachan is a Professor and the Associate Dean (Research and Graduate Studies) in the Faculty of Kinesiology and Recreation Management at University of Manitoba. Prior to completing her doctorate in positive youth development, Dr. Strachan was a physical education teacher at St. Charles Catholic School. Dr. Strachan's students sparked her interest in understanding what youth need to thrive. Her classroom experiences led her to pursue graduate studies in positive youth development. Dr. Strachan serves as a mentor for the next generation of physical and health educators in Manitoba by teaching required courses for students seeking to pursue a Physical Education major or minor in the Faculty of Education, and directly supporting all graduate students as the Associate Dean for Research and Graduate Studies. However, her contributions to sport and physical education are not just at the academic level. She is the co-creator of Project SCORE!, a free online coaching resource grounded in theories of positive youth development, and she remains an active coach, judge, choreographer, and coach educator. Drawing on her background as the first and only Black Canadian woman to be an individual finalist at world championships in baton twirling, Dr. Strachan dedicates countless hours to teaching young athletes leadership and life skills. She currently serves on the research team for Winnipeg's Anti-Racism in Sport Campaign, volunteers on the City of Winnipeg's Community Emergency Advisory Committee, and chairs the Equity, Diversity, and Inclusion Committee of the Canadian Sport Psychology Association. Dr. Strachan is the Head Coach of Aerial Fusion Baton Sport Company, and the Director of the ANANSI School for the Performing Arts. She was recently included on the 2022 list of 100 Accomplished Black Canadian Women (100ABC) in recognition of her impact on the development of girls and women in her community and her leadership accomplishments.
Eric Hamilton, Manitoba
2021-2022 Health Promoting Schools Champion Award Recipient
Eric Hamilton is a Grade 5-8 physical and health educator at École Charleswood School (ÉCS). Eric has provided comprehensive health opportunities for students at ÉCS, often including students in the planning process. Eric has initiated, coordinated, and implemented a team approach to Health curriculum planning and instruction.  The ÉCS Healthy School Team is partnering with other schools in Pembina Trails in the 2022-2023 school year to pilot Healthy School Certification built by OPHEA and endorsed by PHE Canada.  The pilot at the divisional level will help support Eric's work as the PHE Manitoba's Healthy Schools Chair to create a network of stakeholders interested in developing a healthy school culture across Manitoba.  Eric Hamilton has made a difference in the infusion of health in his school, in the school division, and in the province of Manitoba.

Melissa Ferrar, Manitoba
2021-2022 National Award for Teaching Excellence in Health Education Recipient
Melissa Ferrar is a physical and health educator in Norway House, Manitoba. She understands that health education is of utmost importance, especially in the Indigenous community, where the population is at a higher risk of health issues. Norway House has limited access to the internet and technology but that has not stopped Melissa from providing the best programs for her students. She has equipped her students with the tools necessary to live a healthy and happy life. Melissa is an advocate for equal opportunities for girls in the Norway House community. Indigenous communities tend to have higher suicide rates than non-Indigenous communities, Melissa teaches her students the importance of self-worth and always teaches body positivity. She is an individual who practices what she preaches and her students see that on a daily basis. She keeps in touch with her students even after they graduate and remains a person they can turn to when they are struggling. Her persistence, drive, and love to teach is a why Melissa Ferrar was nominated and won the 2022 PHE Canada National Award for Teaching Excellence in Health Education.

Allison Gamble, Ontario
2021-2022 National Award for Teaching Excellence in Physical Education Recipient
Allison Gamble is a physical education and dance educator at South Collegiate Institute. She is currently the Head of Dance/Drama/Music Dept but continues to teach PE regularly. Allison has been actively involved in coaching, including senior badminton, X-country team, volleyball, and track and field, at South for 23 years. Allison has developed the PAR Phys Ed program at South. This PE class (Physical Activity through Rhythmic Movement) was designed for maximum participation, as the school had noticed gaps in its program and was losing female and transgender students at the senior level. This program bridges the world of physical skill development and movement, while offering students the option to stay active in the department. Now in its fourth year, the program has been a huge success and continues to grow each year. Offered in an inclusive and safe environment, the program also focuses on mental health. Allison has also co-authored the Action Pak D'action program of movement which allows movement competencies to be explored in new and creative ways in the PE programs. Allison has written curriculum, presented at various conferences locally, provincially, nationally, and internationally, and continues to develop as a teacher through her own professional development work.

Collin Dillon, Prince Edward Island
2021-2022 National Award for Teaching Excellence in Physical Education Recipient
Collin Dillon began his teaching career in Alberta in 2012 after completing both his undergraduate degree in Kinesiology and teacher education program at St. Francis Xavier University. He is also a graduate of the PHE Canada Student Leadership Experience where he made both an impression and an impact! Collin has taught at both the elementary and secondary levels and has invested most of his career teaching in the province of Alberta. His most recent teaching experience is now in his home province of PEI. During his last few years in Alberta, Collin worked as a teacher, Comprehensive School Health Lead, and Athletic Director during his time at St. John Paul II Catholic School in Grande Prairie. His teaching experience includes the following disciplines of Physical Education, Health and Life Skills, Career and Life Management, as well as, Outdoor Education and Recreational Leadership. Collin has held a number of leadership roles during his career. In addition to his teaching responsibilities, Collin has been an active and valuable member of the Health and Physical Education Council (HPEC) and has supported his specialist council in the role of Conference Committee Co-Chair, Webmaster and Social Media guru. Collin also held the role of an Ever Active Schools Associate Facilitator. Collin was part of Alberta Education's Curriculum Working Group in the development of Wellness Education (Health and Physical Education). He takes pride in his work when in service to others. 

Jethro Bartelings, Manitoba
2021-2022 National Award for Teaching Excellence in Physical Education Recipient
Jethro Bartelings is a physical education teacher at Tec Voc High School in Winnipeg, Manitoba. He applies the Manitoba Physical Education Curriculum in creative and innovate ways, fostering fundamental and foundational movement and fitness, health, safety, and personal and social management. Jethro strives to adapt his teaching methods and pedagogy to meet the needs of a diverse group of learners. He has coached a variety of sports like basketball, football and more recently Track and Field, but his club programs sets him apart. Jethro has an active YouTube channel, Twitter, and Instagram accounts where he posts different activities, workouts and games. Jethro collaborated to create a physical activity resource for elementary students so they could do these movements at home during the pandemic. He helped his school start a yearly fundraising event for mental health and stigma reduction programming. Jethro has received the Physical and Health Educators of Manitoba Physical Educator Senior Years Award. He has presented multiple times at the annual Manitoba Teachers' Society (MTS) Professional Development Day event and his sessions are always well-attended.

Jimmie White, Nova Scotia
2021-2022 National Award for Teaching Excellence in Physical Education Recipient
Jimmie White has been teaching at West Colchester Consolidated School, which has a population of 140 students in Grades Primary to Nine. Jimmie teaches Physical Education to all students, as well as a number of other courses to older students in the school, including Healthy Living and Tech. Ed. He is also the Athletic Director at the school. Jimmie is an engaging and well rounded teacher who is renowned for his passion for outdoor experiential learning. He strives to ensure that students are exposed to many different activities, especially those that can result in lifelong enjoyment of nature. Jimmie prioritizes hands-on learning, engages students in all levels of projects and easily builds cross-curricular connections. He breaks down advanced skills into manageable pieces that enable students to learn effectively without becoming overwhelmed. Jimmie facilitates stronger connections among students and staff through outdoor pursuits and works hard to create social opportunities for students with diverse interests, including things like Herb & Mushroom Club. Jimmie has played a leadership role in making many positive changes to the school's physical environment. He has secured funding for a wide range of equipment, including kick sleds, GaGa Ball pits, winter tents, stoves, skis, snowshoes, disc golf baskets, gardening supplies, and more. He has worked with students to develop and maintain trails in the woods surrounding the school, and has set up weather stations. Jimmie has created and sustained positive relationships with a large mix of community partners.
About PHE Canada National Awards
The PHE Canada National Awards program recognizes those who exemplify excellence in our field and make an impact in their schools and communities. For more information, visit: https://phecanada.ca/inspire
For media inquiries, please contact: 
Fei Wu, Lead, Communications and Events
PHE Canada
(613) 523-1348 x2334
feiwu@phecanada.ca