Award Information
The Physical & Health Education Canada Research Council (Research Council) Emerging Scholar Award recognizes graduate students' commitment to the Research Council, as evidenced through experiences and potential in college/university teaching, research, and leadership/service. It serves as an opportunity to acknowledge the potential of individual student members as future scholars and promoters of physical and health education within Canada.
Award Guidelines
Normally, one award will be presented to a Masters student and one award will be presented to a Doctoral student each time a PHE Canada Research Council Forum is hosted. It is intended that an award winner will not have been a previous recipient of the Research Council Emerging Scholar Award. However, in exceptional circumstances, applicants may be considered for a Doctoral award after having been a previous recipient of a Master's award.
Completed applications should be sent to ResearchCouncil@phecanada.ca. 
Applications for 2022 Emerging Scholar Awards will close on March 22, 2022.
2021 Award Recipient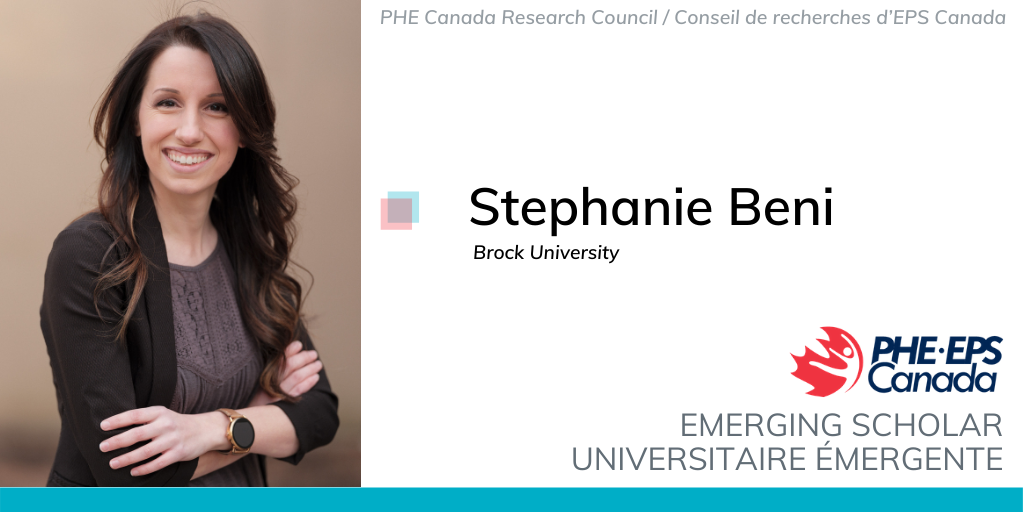 The PHE Canada Research Council is pleased to announce that Stephanie Beni, PhD candidate at Brock University, is the 2021 recipient of the PHE Canada Research Council Emerging Scholar Award.
Stephanie Beni is a doctoral student studying physical education at Brock University. She also teaches physical education part-time to private and home schooled students. Her current research interests lie in identifying practical pedagogical strategies by which practitioners may promote a focus on meaningful experiences in physical education and physical activities contexts, in teachers' professional learning in physical education, and in studying her own teaching practice.
This award was presented during the 2021 PHE Canada Virtual Research Forum on April 28, 2021. Congratulations to Stephanie Beni!