Every three months, the PHE Canada Research Council selects one of its members to profile as Featured Researcher. Whether it's a university level teacher, academic, or graduate student, the Council wants to highlight people who are advancing research centered on topics and issues in physical and health education.
Do you know a PHE Canada Research Council member whose professional ideals and service strengthen the physical and health education sector? Whose research and writing drives change forward? Who has commitment and dedication to the field?
Nominate a Featured Researcher
Featured Researcher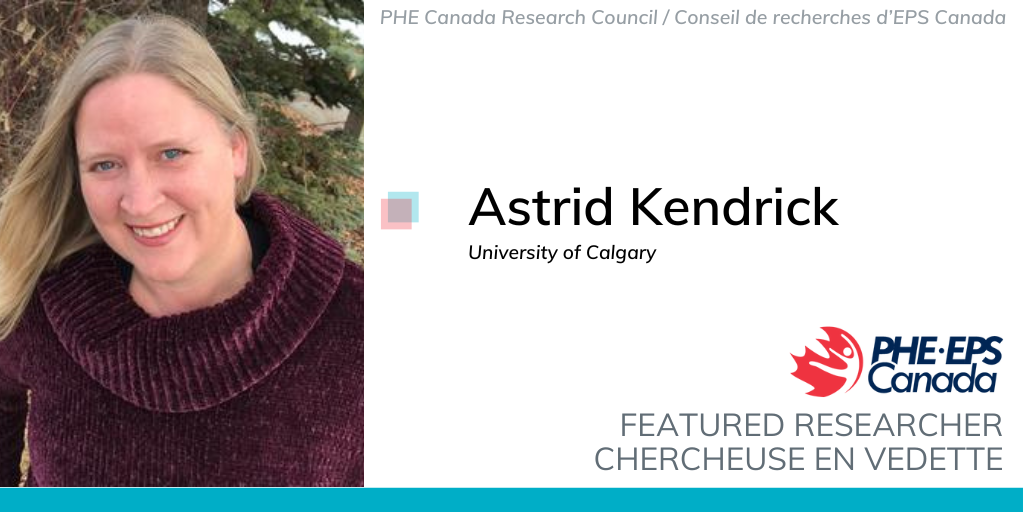 Before taking on her current role of Director, Field Experience (Community-Based Pathway), at the University of Calgary, Dr. Astrid Kendrick taught Physical Education and English for nineteen years from Kindergarten to Grade 12. Her research focus since beginning her Doctor of Education in 2015 has been the influence of emotional labor on the well-being of educators and on the scope and experiences of educators with compassion fatigue and burnout. Astrid is an active volunteer in the Physical Education community and is the co-chair of the Health Promoting Schools Collaborative for the southern Alberta region.
Read more about here!
Past Featured Researcher Profiles
2022
2021
2020
2019
2018