Every three months, the PHE Canada Research Council selects one of its members to profile as Featured Researcher. Whether it's a university level teacher, academic, or graduate student, whoever is advancing research centered on topics and issues in physical and health education the Council wants to highlight. Do you know a PHE Canada Research Council member who's professional ideals & service strengthens the physical and health education sector? Whose research & writing drives change forward? Who's commitment and dedication to the field?
Nominate a Featured Researcher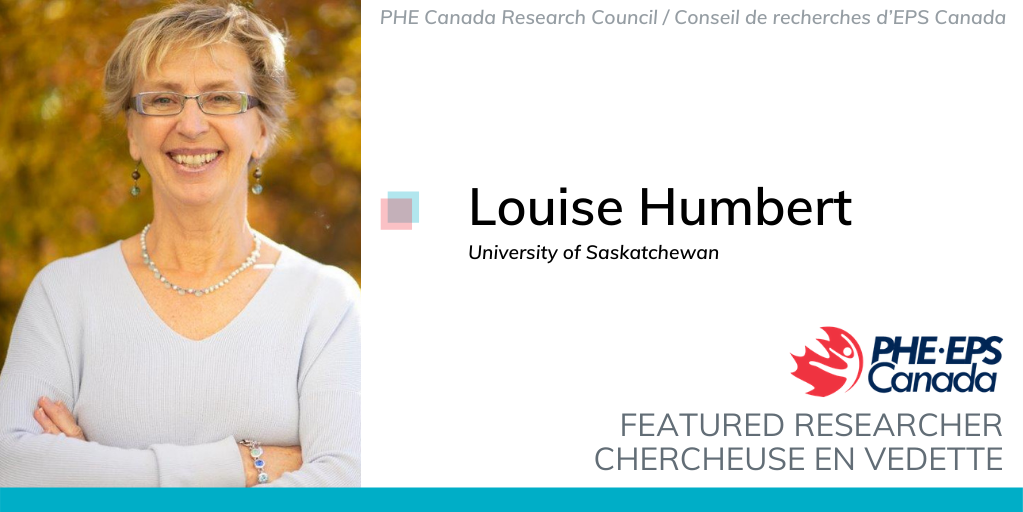 Featured Researcher
Dr. Louise Humbert is a Professor in the College of Kinesiology at the University of Saskatchewan. She spent the first decade of her career as a teacher and consultant with the Saskatoon Public School Division. She then moved to a faculty position at the University of Saskatchewan.  Her career as a teacher informs her research work to this day! Louise's research focuses on developing, implementing and understanding the impact of physical activity opportunities in schools and communities. A former president of PHE Canada, Louise is passionate about the role that schools and teachers can play in developing a lifelong love for movement in children and youth. As a faculty member in a College of Kinesiology, her work sits at the intersection of education and health.  
Past Featured Researchers
2021
2020
2019
2018