Every three months, the PHE Canada Research Council selects one of its members to profile as Featured Researcher. Whether it's a university level teacher, academic, or graduate student, the Council wants to highlight people who are advancing research centered on topics and issues in physical and health education.
Do you know a PHE Canada Research Council member whose professional ideals and service strengthen the physical and health education sector? Whose research and writing drives change forward? Who has commitment and dedication to the field?
Nominate a Featured Researcher
Featured Researcher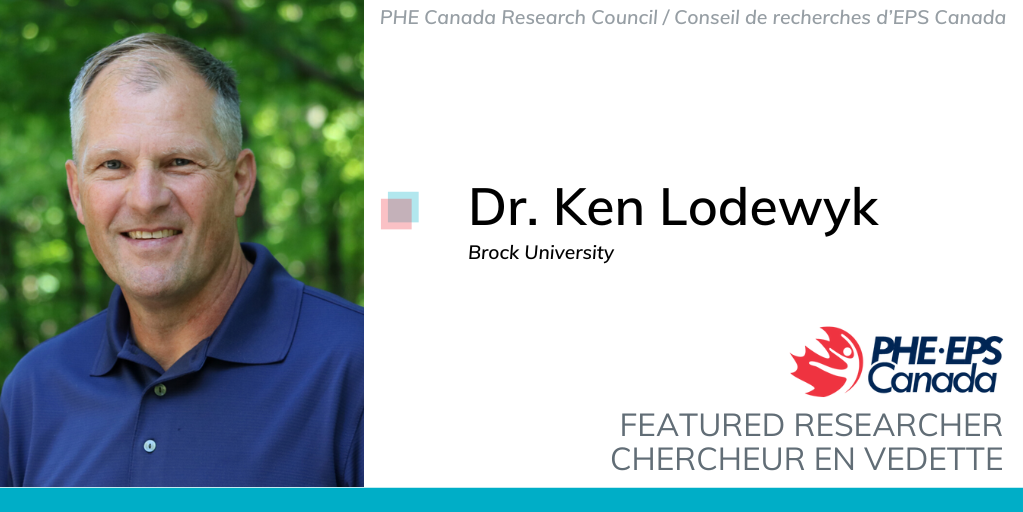 Dr. Ken Lodewyk spent his childhood and youth in Alberta and Nigeria and then completed his undergraduate degree in Michigan. Ken worked as a Health and Physical Education teacher and athletic director for 13 years while also coaching several sports. He finished his graduate degrees and worked as a professor in British Columbia, Ohio, and now at Brock University in St. Catharines, Ontario. Dr. Lodewyk is now in his 19th year at Brock where he teaches and researches mainly in the areas of motor and psychosocial development, physical literacy, and movement pedagogy. Dr. Lodewyk's general research interest is in the relations between instructional practices, motivation, beliefs, life skills, achievement, and physical literacy in physical and health education, recreation, and sport.
Read more here!
Past Featured Researcher Profiles
2023
2022
2021
2020
2019
2018