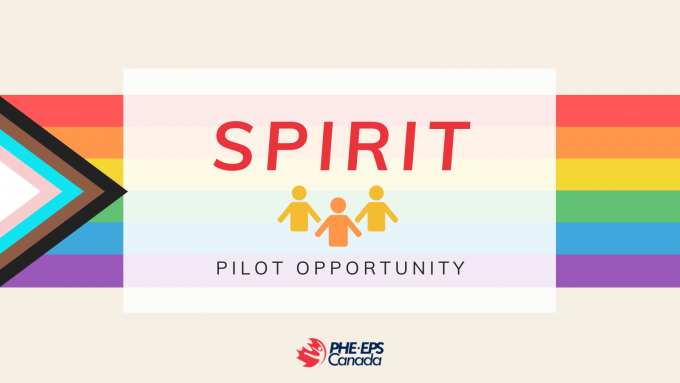 SPIRIT is a pilot project focused on building knowledge, capacity, and understanding to increase accessibility and engagement for LGBTQ2S+ students in school-based physical activity and sport programs. Pilot schools will develop Community Action Teams (CATs) to act as stewards of the SPIRIT project, comprised primarily of youth leaders from the school's Gay and Straight Alliance (GSA) Club, or related group. The CATs will explore and guide the development of innovative solutions and relevant strategies that will reduce and/or eliminate the barriers to LGBTQ2S+ students' participation.
The pilot will include the following main activities: 
Virtual Workshop
Program Planning 
Program Implementation 
Virtual Check-Ins 
Program Evaluation 
 
Participating school communities will be provided with funding to support the planning, implementation, and evaluation of their action plan and associated activities. PHE Canada will work closely with pilot schools to ensure that COVID-19 health and safety guidelines are followed throughout the project.  
 
To express your interest in the pilot, please complete the application at the link below by Monday, December 7th: www.surveymonkey.com/r/SPIRITpilot 
---
Additional Link:
Call for Focus Group Participants
Physical and Health Education Canada (PHE Canada) and our research partner at Simon Fraser University are undertaking a research project that aims to increase the participation of LGBTQ2S+ (i.e. non-heterosexual and/or non-cisgender) youth in physical activity and sport at school. We're looking for LGBTQ2S+ student in grade 9-12, teacher and administrator to take part in a focus group to talk about LGBTQ2S+ students' experiences with school physical activity and sport. For more information, please visit here.