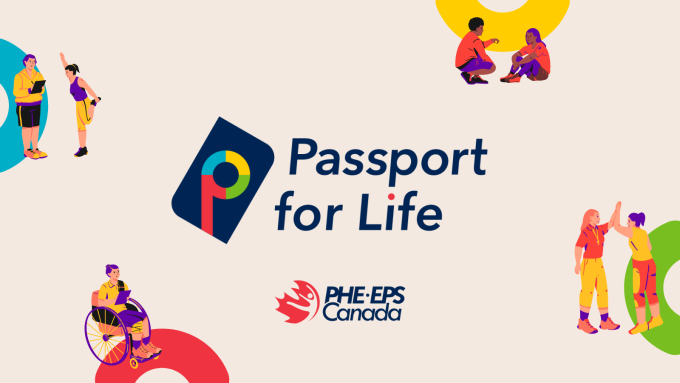 We're looking for K-12 teachers across Canada to pilot the recently enhanced Passport for Life program. Since Passport for Life was initially conceptualized, almost a decade of research and practice has contributed to the concept of physical literacy assessment. The enhanced Passport for Life program centers on students assessing meaningful physical activity experiences continuing to support the awareness, development, and advancement of their physical literacy journey. The pilot will run throughout the Spring of 2022. 
The deadline to apply is April 1, 2022. 
Teacher participants will pilot and provide feedback on:
1. Passport for Life Activities
A sequence of 4 physical activities where students can explore what motivates them, where they are confident, and what lifelong participation in physical activity looks like and means to them. Teachers are encouraged to deliver activities aligned with their grade level: K-3, 4-6, 7-9, 10-12). 
Each activity will explore: 
Meaningful Participation (Motivation & Confidence)
Encourage students to better understand their personal connection with physical activity, their likes, dislikes, strengths, weaknesses, and what motivates them to get active. 
Thinking and Interacting (Knowledge & Understanding)
Promote skills and experiences that enable students to engage more critically with physical activity, including problem solving, critical thinking, goal-setting, cooperation, self-regulation, self-awareness, and interpersonal skills.
Movement Competence
Promote thoughtful engagement with movement itself, asking students to reflect on internal and external factors that shape the ways in which they move, and their ability to break down and adapt movements to meet the challenges of new physical activities and environmental contexts. 
2. Passport for Life Self-Assessment Survey
Following the delivery of the Passport for Life activities, students complete the Passport for Life self-assessment survey. The enhanced self-assessment survey considers the age and stage of students providing important results while also being mindful of the various developmental stages of students. Teachers review student survey responses and gather information about motivation, confidence, physical competence, and knowledge and understanding to value and engage in physical activity for life.
3. Goal Setting Tools (Passports)
After completing the self-assessment, students engage are prompted to reflect and set goals that will support them in understanding their physical literacy journey.